Lashika Blue Filter Sunscreen SPF 45 PA+++ with Brown Seaweed - 30ml
Regular price

₹ 450

Sale price

₹ 450
10% OFF on your first purchase, Use code LS10
FREE DELIVERY on orders above Rs.350
Offer Available
Shop for Rs. 699 and get a gorgeous pouch bag free
Shop for Rs. 999 and get a gorgeous medium sized bag free
Shop for Rs. 1399 and get a gorgeous big spacious bag free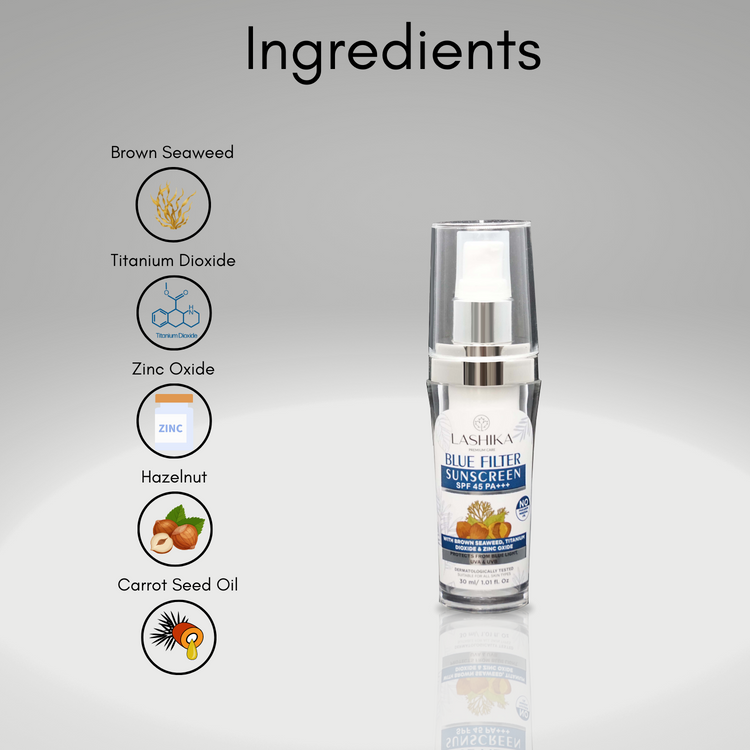 Blue Filter Sunscreen SPF45
High Energy Visible Light (Blue Light) emitted from mobile, laptop and other screen devices is cause for several skin problems including premature ageing. We protect our eyes from the damages caused by Blue Light through anti-glare screen & glasses but we tend to ignore our facial skin.
Lashika's unique Blue Filter Sunscreen promises that your protection is not compromised from Blue Light, UVA & UVB rays and keeps your skin supple and healthy
Benefits
Brown Seaweed
Full of humectants that draw in moisture from the environment
Anti-ageing properties
Radical fighting phlorotannin antioxidants
Heals acne and sensitive skin problem
Reduces skin pigmentation due to exposure to sun and artificial lights (Blue Light)
Titanium Dioxide
Acts as a whitening agent
Provides UVA & UVB protection
Zinc Oxide
Protects skin from sun burns & damage
Heals tissue damage
Locks moisture
Hazelnut
Boost collagen production
Reduce appearance of scars
Safe for sensitive skin
Astringent to shrink appearance of pores , tightens skin and reduces inflammation
Carrot Seed Oil
Reduces puffiness and is anti-inflammatory
Increases collagen production
Antioxidant, Antibacterial and Antifungal
Other organic compounds and non-toxic cosmetic ingredients are also used to formulate this product
Key Ingredients of Blue Filter Sunscreen SPF45
Brown Seaweed, Titanium Dioxide, Zinc Oxide, Hazelnut, Carrot Seed Oil
How to use Blue Filter Sunscreen SPF45
Step
1
Shake well before use to mix particles that might be clumped up
Step
2
Use a handful amount of sunscreen to cover your entire body
Step
3
Make sure you are applying enough sunscreen everywhere for effective results
Manufacturing Information
Manufactured by : TJS - BEAUTY SECRETS INDIA PVT LTD, Mumbai, Maharashtra 400052
Country of Origin : India
Marketed by : Bhandaree Consumer Products Pvt Ltd, Andheri, Mumbai - 400069
*As our products are made with natural ingredients and made in small batches, there may be slight varitions in their color and fragrance.
Really Good
I am very satisfied with Blue Filter Sunscreen. As I am a Sales Person I need this type of product and for daily purpose you can use it.
Nice Fash wash
This product is really good and it is very helpful as a Sun Protector.
Natural product
It makes my skin flawless and beautiful very useful.
Awesome
Very effective for sensitive skin.
Natural glow
I use this product and it gives me a very effective and satisfying result.